Bruce Jenner

is finally sharing his story.
Bruce Jenner has revealed that he identifies as a woman - his 'true self' and a childhood dream - in an explosive ABC interview with Diane Sawyer.
The 65-year-old Olympic gold medalist and reality TV star sparked rumors about his gender identity last year after visibly altering his appearance.
And last night, he confirmed that he is reinventing himself physically in a bid to transition from male to female in the highly-anticipated, intimate sit-down.
Speaking in front of millions of viewers, including Kim Kardashian and her family, Bruce tearfully revealed: 'To all intents and purposes, I am a woman.
'My brain is much more female than it is male. That's what my soul is. Bruce lives a lie. She is not a lie.' He firmly added: 'I can't do it anymore.'
During the interview, Bruce also admitted that he has been taking female hormones for five years - and plans to completely transform into a woman.
But he said he was still attracted to females. 'I was never attracted to the guys,' he told Diane, explaining how he has always enjoyed a good sex life.
And he denied that his revelations were for publicity purposes. Instead, he made them due to his inability to continue to 'pull the curtain', he said.

.
"I would say I've always been very confused with my gender identity since I was this big," said Jenner, 65, tearing up. "I tried to explain it, because I've had all my kids sitting in that chair … and I've tried to explain it this way. God's looking down, making little Bruce … he says 'Okay, what are gonna do with this one. Make him a smart kid, very determined ... and then when he's just finishing he says, 'Let's wait a second.'
"God looks down and chuckles a little bit and says, 'Hey, let's give him the soul of a female.' "
This is the last interview Jenner will do as "Bruce," Sawyer said, adding that Jenner refers to his true identity as "her."
"Bruce lives a lie. She is not a lie," Jenner said. "I can't do it anymore."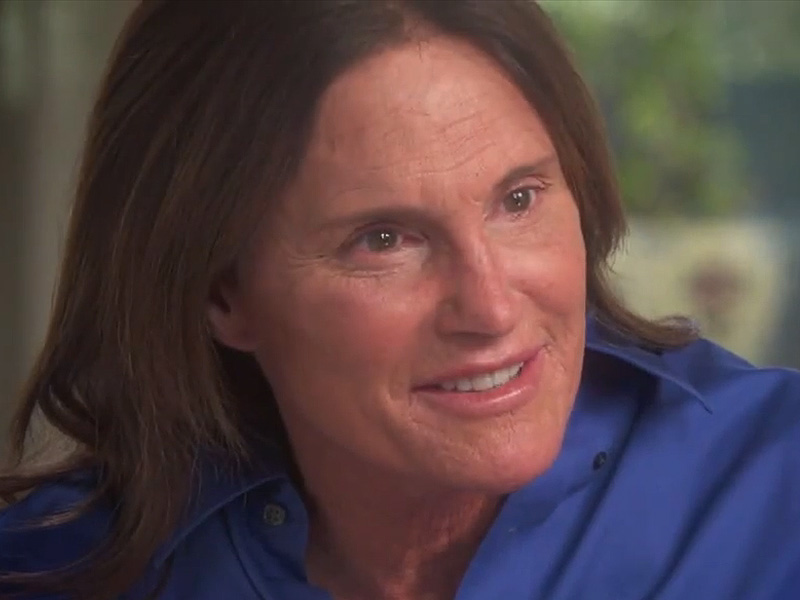 When he came clean to the entire family a few months ago, "they all cried," he said, "namely because they didn't want anyone to hurt Dad."
A father of six and stepdad to the four Kardashian siblings, Jenner was married twice before he wed Kris for 22years.
A source close to him said
that the couple's breakup helped Jenner come to terms with his identity.
But despite his self-proclaimed 'female soul', Bruce said he does not describe himself as a woman stuck in a man's body. 'I'm a person and that's who I am,' he said. 'I'm not stuck in anyone's body. It's just me. It's who I am.' He added that last night's interview would be his last one as Bruce, as a 'he'.
And when asked if he dreams as a woman, he said he 'always' has done.
In the second half of the interview, Diane asked Bruce how his children had taken the news that he identifies as a woman. The star revealed that Kim once caught him in a dress, while his daughters with his third wife, Kris Jenner - Kendall, now 19, and Kylie - had also seen him in women's clothes.
He said Kris's daughter, Khloe Kardashian, 30, had reacted the worst to the news. 'Khloe has been very emotional, she's had the toughest time with it, she's had a lot of losses in her life,' he said, adding that Kim was 'by far the most accepting' to his decision to transform into a woman.
Incredibly, he also told Diane that he had embarked on hormone therapy and electrolysis within 10 years of becoming an Olympic champion in 1976.
However, fear drove him to stop the process and continue giving motivational speeches as a man, he said in the two-hour interview.
Kardashian West, 34, came around after husband
Kanye West
told her a story that she later repeated to her stepdad, he told Diane Sawyer during
20/20
on Friday.
"He says to Kim, 'Look it, I can be married to the most beautiful woman in the world, and I am. I can have the most beautiful daughter in the world, and I have that," Jenner, 65, said of the rapper. " 'But I'm nothing if I can't be me. If I can't be true to myself, it doesn't mean anything."
Bruce was supported by his four eldest children - Burt, 36, Casey, 34, Brandon, 33, and Brody, 31 - in tonight's ABC interview
He took Diane Sawyer inside his closet where he has 2 wardrobes: one with male clothing and another with female clothing.
Celebs reaction to his interview:
ELTON JOHN

'It's an incredibly brave thing to do, especially when you're older. I admire him for doing it and I support him 100 percent.'
DR PHIL McGRAW

'I am so happy for him. This is his body and his life, and he needs to do what he wants to do. It drains your spirit if you can't be yourself. He is freeing himself.'
LENA DUNHAM

: 'I think it's an incredibly powerful and brave move to disclose anything about your gender identity or sexuality in such a judgmental society. The interview is going to mean a lot to a lot of young people, no matter what Bruce chooses to disclose.'
WENDY WILLIAMS

'I feel duped by Bruce… I don't feel duped because he's turning into a woman. I feel duped because he's the same fame whore as the rest of the family. Bruce has bigger fish to fry than turning into Belinda. He should have thought about [transitioning] before he had all the kids… Belinda, shame on you!'
LADY GAGA

: 'I pray this Sawyer/Jenner interview will be met with compassion. This is an important world issue. #BeBraveEnoughToBeKind'
WHOOPI GOLDBERG

: 'This is going to be a little bit of a game changer for people, and dealing with family and how people feel and having those conversations, this is going to be much bigger than ABC or Diane (Sawyer)'
JEFFREY TAMBOR

: 'Any movement toward authenticity is an important movement and everyone can relate to it'
DONALD TRUMP

: 'It's very sad because he doesn't seem very happy, and maybe whatever he's going to be doing will make him happy. If he's happy, I'm happy'
LARRY KING

: 'Had amazing talk with Olympian Rafer Johnson this week, who fully supports his fellow gold medal decathlon winner #BruceJenner & so do I'