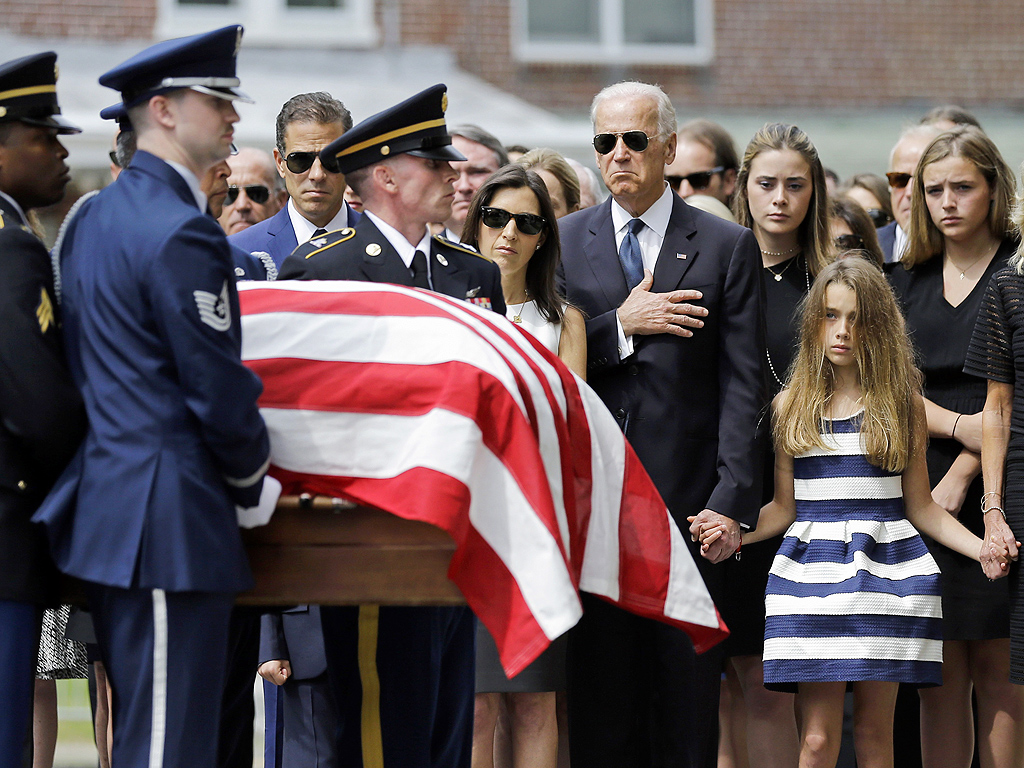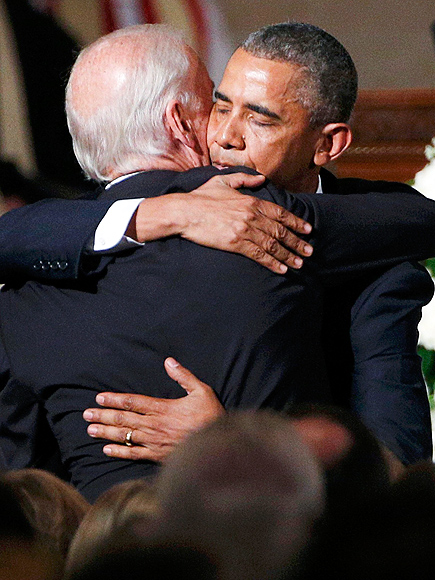 In a speech occasionally broken by emotion, President Barack Obama eulogized Beau Biden, the eldest son of Vice President Joe Biden, as a man with a "mighty heart."

"Beau Biden brought to his work a mighty heart. Beau Biden brought to his family a mighty heart," Obama said at Beau's Saturday funeral service, following his death last month at 46 from brain cancer.

Obama began with this comparison: "'A man,' wrote an Irish poet, 'is original when he speaks the truth that has always been known to all good men.' "

And Beau, a former Delaware attorney general and Iraq war vet, "was an original," Obama said. "He was a good man. A man of character. A man who loved deeply, and was loved in return." Before a crowd of 1,000, Obama explained how his family and the Bidens had grown close in their years together on the campaign trail and in the White House. He was visibly moved during his remarks, sniffling occasionally, and wrapped the vice president in a warm hug after stepping down.

It was no secret, Obama said, that Beau loved and admired his father; and the president remembered him as an "upgrade" of the vice president: "Joe 2.0."

"He learned how to make everybody else feel like we matter – because his dad taught him that everybody matters," Obama said.
Indeed, he said, the tragedy that afflicted Beau at an early age, when his mom and baby sister were killed in a Christmastime car crash in 1972, did not turn him away from life.

Suffering has a way of flattening someone's soul. "But if you're strong enough, it can also make you ask God for broader shoulders," Obama said.

And "to know Beau Biden is to know which choice he made in his life." "That very young boy made a very grown-up decision: He would live a life of meaning. He would live a life for others. ... The cruelty he endured in his life didn't make him hard, it made him compassionate. It made him empathetic," Obama said.

Beau was a tireless, "consummate" public servant, and the scion of a family who taught him their No. 1 rule: "Someone is always there for you when you need them."

He did in his 46 years "what most of us couldn't do in 146," Obama said. "He left nothing in the tank."

It was the kind of effort, and the kind of human spirit, that lasts.

"As hard as it is right now, through all the heartache and through all the tears, it is our obligation to Beau to think not about what was and what might have been," Obama said, "but instead to think about what is, because of him."