Actor Jim Carrey's on again, off-again girlfriend, Cathriona White, committed suicide after breaking up with Carrey.
White, 28, reportedly killed herself on Sept. 24.
In her last tweet, she wrote: "Signing off Twitter, I hope I have been a light to my nearest and dearest. [Love] to [you] all."
Last week White shared an Instagram photo with her followers. In the caption, she wrote a poem by Irish poet W.B. Yeats:
"Faeries, come take me out of this dull world, For I would ride with you upon the wind, Run on the top of the dishevelled tide, And dance upon the mountains like a flame. W.B. Yeats. #faeries #pixies #flowers #reflections #poetry #yeats #love #ireland #california#californiadreaming #ilovetea."
On Tuesday, Carrey issued an emotional note saying he's "deeply saddened by the passing of my sweet Cathriona" – and also honored the woman he's been linked to for the past three years.

"She was a truly kind and delicate Irish flower, too sensitive for this soil, to whom loving and being loved was all that sparkled," Carrey said in a statement. "My heart goes out to her family and friends and to everyone who loved and cared about her."

The Irish native, 30, was "pronounced dead at 8:40 p.m. last [Monday] night at a residence," Los Angeles Assistant Chief Coroner Ed Winter stated.

Although White's official cause of death cannot be determined until an autopsy is conducted, Winter said there were indications at the scene of a suicide.

"It was reported as a possible suicide. There evidently was a note found. There were pills located near her," said the spokesman, who added that the "final cause of death won't be released until we get full toxicology and tests back."

According to the Irish Independent, White – a native of the Tipperary region of Ireland – and Carrey, 53, first met on a film set in 2012. They reportedly dated for most of 2013 before reuniting earlier this year.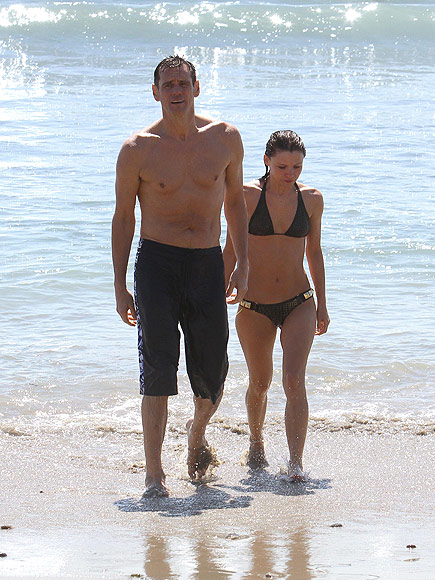 In May, the pair were spotted walking hand in hand in New York City. However, TMZ reports the pair recently split again.
Despite Cathriona's father's serious illness- he later died from a brain tumor in 2012- and her mother living in a different country, locals say the family was very close.
'The Whites are a tight knit family and they are only trying to come to terms with it now,' a local source told Daily Mail Online.
'Cathriona's father and mother separated, and Pat remarried, but it was years later. He was a true gentleman,' the source said.
Paying tribute to White, the local source said: 'She was the salt of the earth.'
'She was a very beautiful young woman too. This whole thing is really awful.'
'The whole place is in fierce shock,' the source said.
How truly tragic, such a great pity for a young and beautiful woman to take her own life, a life full of great promise #SayNoToSuicide