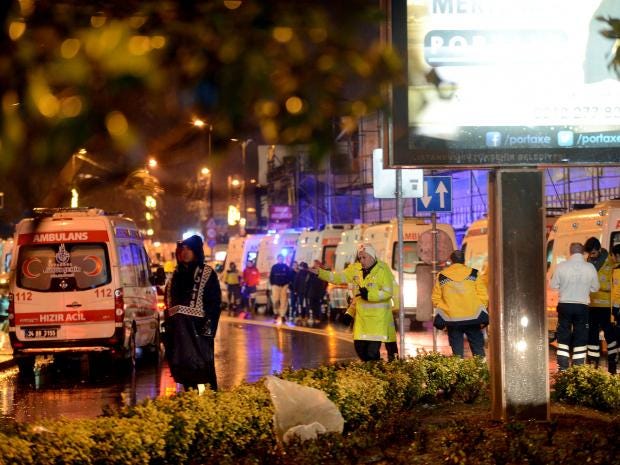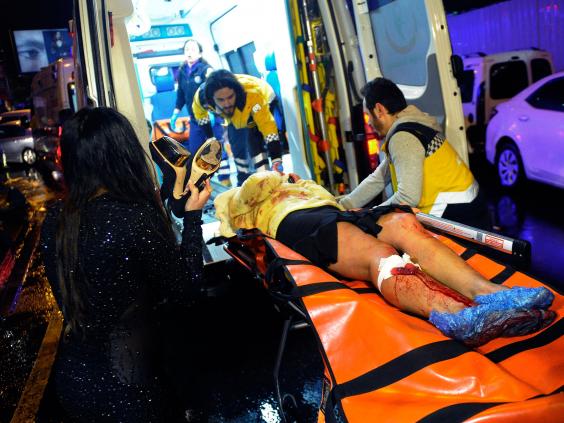 At least 39 people, including at least 15 foreigners, have been killed in an attack on a nightclub in Istanbul, Turkey's interior minister says.
A gunman opened fire in Reina nightclub at about 01:30 local time (22:30 GMT), as revellers marked the new year.
Suleyman Soylu said efforts were continuing to find the attacker, who was believed to have acted alone.
At least 69 people were being treated in hospital, the minister added. Four were said to be in a serious condition.
"A manhunt for the terrorist is under way. Police have launched operations. We hope the attacker will be captured soon," he said.

Only 21 of the victims had been identified, he said. Fifteen or 16 were foreigners, he said, and at least three of the Turkish victims may have been employees at the club.
"This was a massacre, a truly inhuman savagery,'' he said.
Media reports suggest the attacker may have been wearing a Santa Claus outfit. The minister did not confirm this but said the assailant was believed to have left the club wearing "different clothing".
Local reports said some people jumped into the waters of the Bosphorus strait to escape the massacre, which started shortly before 1.30am local time (11.30pm GMT).
CCTV footage from inside the club was broadcast by Turkish media, appearing to show a gunman dressed as Father Christmas walking through abandoned drinks booths.
Witnesses said the man was wearing a Santa costume and speaking Arabic, suggesting he was not Turkish.
Reina nightclub, in the the Ortakoy area of Istanbul, is an upscale venue on the banks of Bosphorus.
Istanbul Governor Vasip Sahin said the attacker killed a policeman and a civilian outside the club before entering and opening fire.
"Before I could understand what was happening, my husband fell on top me,'' the Associated Press news agency quoted Sinem Uyanik, who was inside the club, as saying.
"I had to lift several bodies from (on) top of me before I could get out. It was frightening.''
There were reportedly as many as 700 people in the nightclub at the time of the attack, some of whom jumped into the water to escape.
The Turkish authorities have imposed a media blackout on coverage of the attack, citing security and public order concerns, but it does not extend to official statements.
Some media reports spoke of more than one attacker and Dogan news agency reported that some witnesses claimed the attackers were "speaking Arabic", but there is no confirmation of this.
US President Barack Obama, who is on holiday in Hawaii, was among the first international leaders to make a statement after being briefed by his team.
"The president expressed condolences for the innocent lives lost, directed his team to offer appropriate assistance to the Turkish authorities, as necessary, and keep him updated as warranted," White House spokesman Eric Schultz said in a statement.
Nato Secretary-General Jens Stoltenberg and Federica Mogherini, the EU representative for foreign affairs, also expressed their condolences.
"2017 starts with an attack in Istanbul," Ms Mogherini wrote on Twitter. "Our thoughts are with victims and their loved ones. We continue to work to prevent these tragedies."
Germany's foreign ministry said it was "distraught and mourn with the people of Istanbul".
Istanbul was already on high alert with some 17,000 police officers on duty in the city, following a string of terror attacks in recent months.
Many were carried out by so-called Islamic State (IS) or Kurdish militants.
Less than a fortnight ago, Russian Ambassador Andrei Karlov was shot dead by off-duty Turkish policeman Mevlut Mert Altintas as he gave a speech in the capital Ankara.
After the shooting, the killer shouted the murder was in revenge for Russian involvement in the conflict in the Syrian city of Aleppo.
#bbc