There's very little we can learn about true love through the celebrities we follow so closely on Instagram and through the plot lines of Hollywood movies.
Those movies usually end with the guy getting the girl, no matter how messed up or predictable their relationship is.
Once we start to realize these examples of "true love" aren't that realistic, we start to wonder where we can get real advice on marriage, relationships and untethering love.
Since there's no textbook to follow or psychic that can really predict whether or not we have what it takes to carry on our relationship until the end of time, the best people to chat with for advice are the ones who have been in love for more than half a century.
Check out the advice from these married couples who have been married for 50 years or more on the secret to staying in love:
1. Learning to let things go, no strings attached Never let a fight last more than 10 minutes. There's no need. No need to be the winner of a fight. Instead be the one who grabs the other and says, 'I love you. Let's move on and let this go.' That is the secret of our marriage. We don't carry on about nothing. — Marianne S., 76 "Never let a fight last more than 10 minutes."
2. Carving out meaningful time for each other Whenever life got busy, we made time for one another. We tried to eat dinner together every night at the kitchen table. We tried to spend at least one day of the weekend together. We did a good job trying, and so we stayed in love. We always made time for one another no matter what. We did that because it was important to us to stay alert about what was happening in each other's lives. — Grace H., 73
3. Knowing the grass is not greener My grandkids won't settle down because they think the grass is greener. I met my wife and asked her to marry me three days later. When you know someone is right for you, settle down with them and don't let them go. The grass is never greener than love you foster over many years. — Sheldon Y., 69 "When you know someone is right for you, settle down with them and don't let them go."
4. Happy wife = happy life Keep your wife happy. When she is happy, she will show you love. When she shows you love, you feel happy. It's that exact cycle that is the recipe for long-lasting love. — Martin Z., 78
5. Find a way to laugh every single day Life is hard. Marriage is hard. We find a reason to laugh every day. Because of that, we have stayed in love for 51 years. — Deborah W., 71
6. Recognizing the difficulty of marriage I got married at age 18. Back then, It was just what you did. At first, It was fun and easy. Then we had one kid, two kids, three kids, four kids. Things got hard. We grew up together, and we stayed together as our kids grew up. The secret is that it is hard. When you realize that, you are on track to having a marriage that is filled with love. — Linda P., 68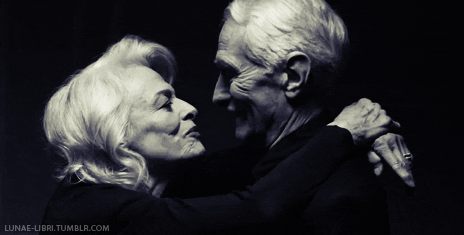 7. There is no secret There is no secret. Marriage is hard work. If you want it to work out, you have to not give up on it. Younger people these days think they can get whatever they want, when they want it. Marriage doesn't work like that. It takes years to understand a person, and it takes guts to stick with them even when things are not working out as easily as they used to. — Joe P., 71 "There is no secret. Marriage is hard work."