Four people were killed and dozens injured when a suspected terrorist drove through pedestrians in Westminster before launching a knife attack.
PC Keith Palmer, 48, was stabbed to death before his attacker was fatally gunned down.
Knifeman Khalid Masood ploughed into pedestrians on the pavement of Westminster Bridge, killing three members of the public, before running through the Parliament railings and attacking the unarmed cop.
ISIS claimed responsibility for the attack through its news agency Amaq.
There has been speculation that the radicalisation process began when he went to work as an English teacher in Saudi Arabia in 2005.
The indications, however, are that it is more likely to have taken place while he served sentences in prison for violent offences.
After being freed in 2003 from his second time in jail he married Farzana Malik, a Muslim woman following conversion.
It was his increasing interest in fundamentalist Islam which is said to have taken him to Saudi Arabia. The security agencies are, however, examining whether he met with extremists there and had maintained contact with them since.
Ironically, in the light of what was to happen, finding Islam also seemed to have curbed Masood's violent nature, those who know him have told investigators.
He had previously been engaged in repeated acts of criminality under a number of aliases. Both of his serious convictions had been in relation to stabbing attacks and he had been arrested on other occasions for aggressive actions.
Masood and his wife, who have three children, are said to have later divorced. But changing religion also brought a change to Masood's circle of friends and acquaintances with him gravitating to those sharing his conservative interpretation of Islam.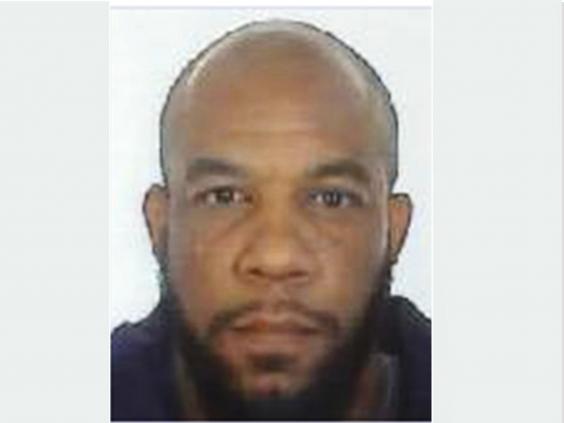 He is also said to have spent long hours indoors during the day, a lot of the time on the internet.
Whether he was steered towards terrorism online is a major part of the inquiry with a number of computers and tablets, of the killer and those detained, being examined by police.
Scotland Yard Assistant Deputy Commissioner Mark Rowley said a "massive amounts of computer data" was seized among 2,700 items in total.
Police say the attacker's step-father is a Nigerian
According to The Guardian, the attacker was born on Christmas Day 1964. The first picture of the Westminster terrorist Khalid Masood has emerged. The photo is of Masood, then called Adrian Ajao, as a schoolboy with a football team in the early 1980s. Ajao grew up in Tunbridge Wells, Kent, where the family attended church and he went to Huntleys secondary school, which has since closed down
He stands sixth from the left in the back row with his arms folded in a group shot of the football team after they played a charity match. The name, Ajao, is his stepdad's surname.