World No 1 Serena Williams has branded Ilie Nastase's alleged comments against the tennis player's unborn child "racist".
The 70-year-old coach, a former No 1 himself, was heard to have said "Let's see what colour it has. Chocolate with milk?" ahead of Romania's FedCup tie with Great Britain.
Williams responded to the remarks through a post on her Instagram account.
"It disappoints me to know we live in a society where people like Ilie Nastase can make such racist comments towards myself and unborn child, and sexist comments against my peers," she wrote.
"I have said it once and I'll say it again, this world has come so far but yet we have so much further to go.
"Yes, we have broken down so many barriers - however there are a plethora more to go. This or anything else will not stop me from pouring love, light and positivity into everything that I do. I will continue to take a lead and stand up for what's right."
Williams added that she was not intimidated by Nastase who also verbally abused Johanna Konta and Anne Keothavong during Saturday's FedCup singles, calling the pair "f****** bitches".
The coach was subsequently ejected from court and is currently being investigated by the International Tennis Federation (ITF).
"I am not afraid unlike you," the 23-Grand Slam winner added. "You see, I am no coward. Does my sassiness upset you? Why are you beset with gloom? You may shoot me with your words... you me try to kill me with your hatefulness, but still like air, I rise.
"I humbly thank the ITF for any consideration given to all the facts in this case. They will have my full support."
Nastase also prompted controversy after launching into an astonishing rant at a British journalist on Saturday, calling her "stupid" for reporting his apparently racist comment about Williams' pregnancy.
The coach was unhappy after his comments were reported about Williams' baby, which is due in the autumn, and Nastase stormed into the press centre at the Tenis Club IDU in Constana to seek out the British media.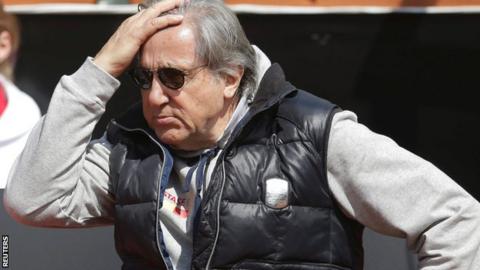 He said to the Press Association's Eleanor Crooks: "Why did you write that? You're stupid, you're stupid."
The tirade took place in front of a number of members from the Romanian media and, according to Crooks, lasted between two and three minutes.