Less than a week after breaking the news that she and husband
John Legend
are expecting their first child,
Chrissy Teigen
's much-anticipated baby bump has arrived.
The 29-year-old shared a photo of her brand new pregnancy belly on Instagram, Sunday.
Wearing a black dress and a white sweater, Teigen's new curves are on display in a bathroom mirror.
"Somebody is early to the party," she wrote.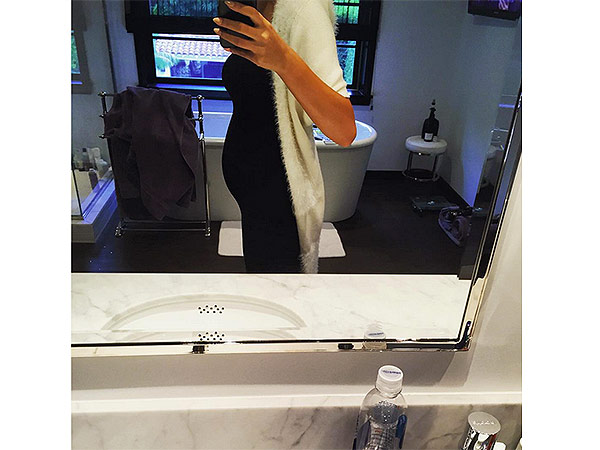 After posting the picture of her visible bump yesterday, fans were shocked at how big it already is considering she only announced a few days ago that she was expecting.One fan tweeted
"Uh @ChrissyTeigen from the looks of that bump, I think u might be expecting twins!! Isn't it kinda early to be already shown like that?"

. Another added, "@ChrissyTeigen you got big fast! My bestie is due in Feb and she's ½ your size. Not twins? Probably triplets."
In reponse,an angry Chrissy tweeted:
"I did IVF. One at a time. It isn't twins. I can see the damn thing,""Get out of my uterus!""Please stop. I put one embryo in. I have ultrasounds every few days. I didn't announce [my pregnancy] at a week." A source recently confirmed to E! News that Teigen is in fact three months along.
The criticism has led the 29-year-old to swear off tweeting about her pregnancy.
"No more preg tweeting for me, lesson learned!! Back to food and reality TV and hay things," Teigen tweeted on Sunday to her nearly 100,000 followers.